Your Unforgettable Event at the Chopin Hotel in Sochaczew - Hotel Chopin Business & Spa
30 June 2023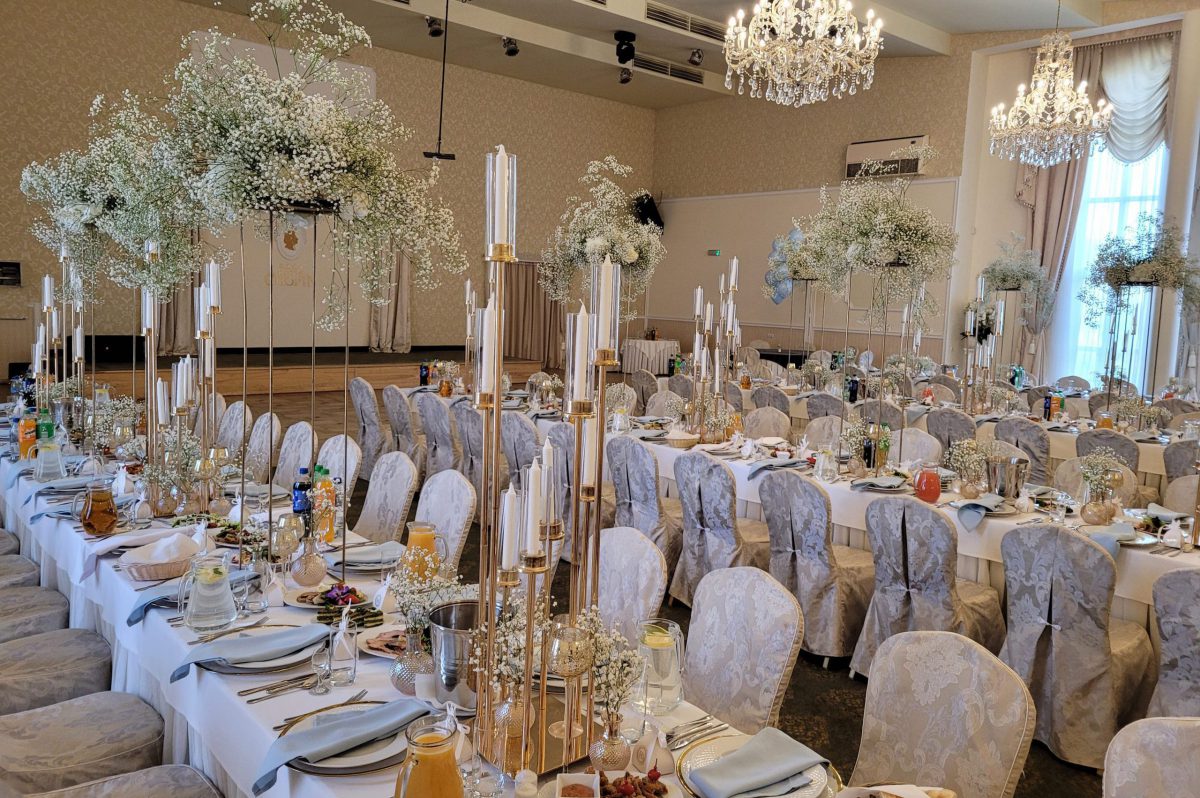 Professional Organization of Parties for Every Occasion
Organization of Family Receptions - We Create Memories
Hotel Chopin is a unique place that guarantees organizing a family reception on the highest level. We offer elegant and spacious rooms (we have 8 of them) that can accommodate various numbers of guests, and our highly qualified staff will ensure the comfort and satisfaction of every participant.
Just as important as the surroundings is the menu. Our experienced chefs, using the highest quality ingredients, will prepare dishes for you and your family that will satisfy even the most demanding palates. Our offer includes both traditional Polish flavors and international specialties.
Organization of a Corporate Reception - Attention to Detail
When it comes to organizing a corporate party, Hotel Chopin offers not only a professional approach, but also a flexible offer, tailored to your company's needs. We offer modern and fully equipped conference rooms, ideal for all kinds of business meetings, seminars or training sessions.
We are able to cater to all catering needs, offering a variety of business menus, buffets, as well as coffee breaks. Our experienced staff is always available to help you with every step of your event.
Organizing a Wedding Reception in Sochaczew - Exceptional Moments.
Organizing a wedding reception is a special moment in every couple's life. At Hotel Chopin, we understand this perfectly and make every effort to make this day perfect. Our offer includes a spacious, elegant ballroom, delicious menu, as well as the possibility of accommodation for wedding guests.
Each couple has their own unique needs and expectations, so our offer is always tailored to individual preferences. We offer the support of an experienced wedding planner to help you plan and execute your dream wedding.
Chopin Hotel - A Place for Every Occasion
Regardless of the occasion, Hotel Chopin is a place that will always provide professional organization and an unforgettable experience. Our attention to detail, first-class service and unique surroundings make us the perfect choice for any event. Contact us to learn more about our offerings and to book your dream party.
Hotel Chopin offers not only excellent conditions for organizing various types of events, but also an exceptional menu prepared by our skilled chefs.
Below are examples of the menus offered by the Chopin Hotel Restaurant in Sochaczew for special events.
Sample Menu I
The meal begins with a set of appetizers, including a variety of salads, cold cuts and cheeses, as well as a delicious puff pastry with mushrooms and cheese. Then, as a main course, guests can choose between tender chicken in curry sauce with basmati rice or a flavorful salmon fillet served with vegetables and potatoes. Dessert is an extremely flavorful meringue cake with fruit.
Sample Menu II
This menu begins with an extensive array of appetizers, including salmon tartare, beef tenderloin carpaccio and a selection of salads. Main courses include an exquisite chicken filet in cream sauce with roasted potatoes and vegetables, or cod in mustard sauce with couscous. For dessert, a delicious cheesecake with raspberry sauce is served.
Sample Menu III
Appetizers are served first, which include beef tartare, Parma ham with melon and a selection of salads. As a main course, we offer entrecote steaks served with French fries and grilled vegetables or fried shrimp in chili sauce with rice. For dessert, guests can enjoy crème brûlée with forest fruits.
It should be noted that the menu offered is always tailored to the individual needs and preferences of guests, and our staff will do their best to meet all expectations.
SPECIAL RECEPTIONS
Almost 25 years of experience, an energetic team and menu tailored to the tastes of each client. Hotel Chopin**** is the highest level of service for any event, from an intimate party to a grand gala.
tel: +48 46 880 59 96 / +48 696 469 332
e-mail: przyjecia@hotelchopin.pl